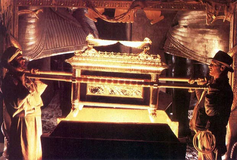 The Ark of the Covenant also known as the Ark of the Testimony or the Ark of God is a mythological artifact from the Book of Eximus of the Hebrew Bible. It was notably featured in the film Raiders of the Lost Ark.
Description
[
]
History
[
]
Mythology
[
]
The Ark of the Covenant is a gold and acacia box which was created by the Israelites who crossed the Red Sea to flee enslavement in Egypt. The Ark was made to carry the stone slabs of the Ten Commandments in-addition to Aaron's rod and a pot of manna.
Film
[
]
Appearances and allusions
[
]
Dok-Ondar's Den of Antiquities
[
]
The ark is located on a shelf in this shop in the Black Spire Outpost of the planet Batuu.[1] This might represent a Twi'lek version of the ark which appeared in the show Star Wars: The Clone Wars.
The Ark of the Covenant appeared in the Raiders of the Lost Ark segment of this attraction, being removed by Indiana Jones and Sallah.
During the Indiana Jones: Summer of Hidden Mysteries event, objects affiliated with Jones' collection could be found scattered around the Jungle Cruise during this time. This included the crate which the Lost Ark was stored within, supposedly left behind during one of Jones' travels.
In this bar belonging to Indiana Jones' affiliate Trader Sam is a sack which reads, "IF LOST ARK CONTACT: 2989".[2]
Trivia
[
]
References
[
]