Barnabas T. Bullion is a character from Big Thunder Mountain Railroad a member of the Society of Explorers and Adventurers.
History
[
]
Barnabas T. Bullion was a wealthy man born into the wealthy and powerful East Coast Bullion mining family.[2] He considered gold to be his birthright and on the September 23 of 1848, obtained a land-grant to mine Big Thunder Mountain in the Western River Valley of Arizona. This company however was seemingly run at the time by one Henry Ravenswood, founder of the Big Thunder Mining Company which had stolen the land from the native Shoshone peoples.
By 1870, Bullion joined the Society of Explorers and Adventurers where he became friends with inventor and society-president Jason Chandler. At some point in time, he and Chandler went on an expedition to the lost South American city of El Dorado which was the last time Barnabas contacted the society directly until 1880. By 1879, Bullion would become the president of the Big Thunder Mining Company as Ravenswood died in an earthquake in the year 1860.
Bullion's company would operate out of the mining-town of Rainbow Ridge but made its headquarters in the town of Tumbleweed, both of which were frequented by natural-disasters caused by the wrath of the Spirit of Big Thunder. In 1880, Bullion overhauled the Big Thunder Mining Company with new technology, largely provided by Jason Chandler who insisted that Bullion cease his operations following a consultation with one Madame Zarkov at the Museum of the Weird.
Bullion refused to cease his mining in Big Thunder Mountain however, resulting in earthquakes, droughts, flash floods and a great number of other tragedies in the towns which mined into the mountain for Bullion's greed. At some point between 1880 and 1899, Barnabas T. Bullion would die of yet unrevealed causes.
Appearances and

allusions

[

]
Big Thunder Mountain Railroad
[
]
Barnabas T. Bullion was created for a 2013 refurbishment of the attraction's queue introducing a number of interactive elements.
Magic Kingdom
[
]
According to a land grant, Barnabas established the Big Thunder Mining Company on Sept. 23, 1848 in the Western River Valley of Thunder Mesa, Arizona, the home of Big Thunder Mountain. Within the Tumbleweed office, correspondence from mining operations from other members of the Bullion family like T.W. Bullion Silver Mine in Nevada can be found. As well as this is a letter from Jason Chandler and Madame Zarkov warning Bullion of the supernatural forces threatening the mining operations.
Disneyland
[
]
A portrait of Bullion can be found in the Panhandle Hotel in Rainbow Ridge.
Barnabas's name appears on one of the expedition paddles displayed at The Tropical Hideaway, taken from an 1870 expedition down the Colorado River.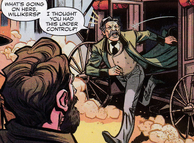 Barnabas is a primary character in the Big Thunder Mountain Railroad comic book mini-series. He is the owner of the mines in the town of Rainbow Ridge. He is desperately trying to keep the mines afloat, listening to his foreman Williker's advice in spite of the safety risk. His daughter, Abigail, tries to convince him to stop the mining, but his stubbornness is too great. He won't stop it until the truth is shoved in his face.
Connections
[
]
Madame Zarkov who warned Barnabas through Jason Chandler of working in the mountain is a character from Pleasure Island. She originally appeared as a member of the Adventurers Club, a splinter organization of SEA created by Merriweather Adam Pleasure in the early 20th century.
Jason Chandler contacted Madame Zarkov at the Museum of the Weird to for advice on Barnabas T. Bullion's mining operations. The Museum of the Weird originates from an unbuilt expansion planned for Disneyland's Haunted Mansion.
Trivia
[
]
Bullion was modeled after Imagineer Tony Baxter, who designed the original attraction.

Artists who worked on the Disney Kingdoms comic referenced photographs of Baxter when drawing panels[3].
Bullion's characterization was adjusted for the comic, making him more sympathetic. He was less concerned with the money and more concerned with keeping the town afloat.

Bullion was not the only man who's been named the owner of the mines in Big Thunder Mountain: in Disneyland Paris, they're owned by Henry Ravenswood. While nothing official has come addressing the contradiction, they could have both been the owners at different periods of time. They also could have been business partners and Bullion simply took over the operations after Ravenswood passed.

Ravenswood was likely an influence on Bullion, as the two share many traits. They're both known for their greed and stubbornness. They both ignored warnings about the supernatural, to their detriments. They both have daughters they are overprotective of - Abigail and Melanie, respectively.

Some have speculated that Barnabas was one of the Society of Explorers and Adventurers members, featured in the 1899 group-portrait at Mystic Manor. According to WDI Story Editor Kevin Lively, it isn't him because he died "long before 1899".[4]
Barnabas's age is unknown, however considering that he is directly modelled after Tony Baxter and that certain dates in the mythos mirror real-life dates, some different speculations can be made regarding his age.  There are two likely results.

Using the date Big Thunder Mountain in Disneyland was opened September 2, 1979 and in Walt Disney World in 1980. The date September 30th is used for when Barnabas received his land-grant in 1848.  In real life Baxter was 31 when Big Thunder opened which if applied to Bullion would make his birth be in 1817 and make him 63 during 1880.
We can also get a speculative age if it is assumed that Bullion's appearance in the portrait mirrors the age Baxter would have been when Bullion's character was added into the queue in 2013.  Tony Baxter was born in 1947 and was 66 in 2013.  From this Bullion's year of birth would be determined as either 1814 or 1813, depending on if you subtract from 1880 or 1879.  This would have made him either 35 or 36 when he started the company.
References
[
]