Beatrice Rose Endicott is the head of the New York City Preservation Society featured in Tokyo DisneySea's Tower of Terror.
History
[
]
Born in 1883, Beatrice Rose Endicott was the seventh daughter of business mogul Cornelius Endicott III, owner of the U.S. Steamship Company which own various ships including S.S. Columbia. Growing up, she idolized the adventurous exploits of Harrison Hightower III, a business rival and her father's self-declared enemy.
On New Year's Eve, 1899, Hightower was cursed by an African cursed idol Shiriki Utundu. The effects of the curse and the elevator crash caused a noticeable conflagration outside the hotel that Endicott wtinessed from her bedroom window. At that time, she wasn't at the scene of the accident (the Endicott family not being invited to the high-society party at the hotel), so she didn't believe the curse of Shiriki Utundu.
Years passed by, with Hotel Hightower closed down and derelict. In 1908, after a chance encounter with a like-minded man named Archie in Central Park, Endicott decided to save Hotel Hightower as a precious cultural property of New York City and a tribute to Hightower's legacy. She established the New York City Preservation Society and started drumming up support to reopen, restore and hold tours of the Hotel Hightower.
However, Manfred Strang, a reporter for the New York Globe-Telegraph, was against that idea, saying that the hotel was cursed. In 1912, an article published in the paper by Strang that called for the hotel's demolition caught Endicott's ire. By July 20th of that year, the Society had been granted a city charter of the Hotel Hightower, with Endicott herself presiding over the press conference.
Since Endicott didn't believe in curses, Endicott invited Strang to explore the Hotel Hightower with her for the first time. At they explored, they heard various mysterious voices and Strang realized that one voice was Hightower's. He took Endicott's hand and they narrowly escaped the hotel. However, despite Strang's expectations, Endicott never changed her mind to stop the tours at the Hotel Hightower.
During the construction of the S.S. Columbia from 1909 to 1912, Beatrice assisted her father with the interior design of the ship's facilities and would be the one to christen the ship on its test launch in 1911.
Appearances and allusions
[
]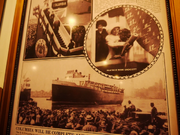 S.S. Columbia
[
]
A newspaper photograph of the Columbia's launching shows Beatrice Rose christening the ship.
Tower of Terror
[
]
Tower of Terror: The Mystery
[
]
Connections
[
]
In 1912 Director of the NYCPS Vanessa Capshaw sent a letter to Trader Sam about Billamongawonga, or Trader Bill, one of Hightower's old associates. She believes that he was Sam's grandfather, and gifted him a painting of him. The painting and the letter can be found at the Enchanted Tiki Bar at Disneyland.