Constance Hatchaway is a primary characters at the Haunted Mansion at the Disney Parks. She is the bride in the attic, famous for killing her wealthy husbands for their inheiritance.
History
[
]
Constance Hatchaway was born in Money County, California at some point during the 19th century (said to be 1851 at a live-event). She would go on to become a serial-killer who seduced and married wealthy men before killing them and taking their inheritances.[1]. Constance's modus operandi was to marry a richer and more powerful man with each marriage, climbing higher on the social ladder. With each new marriage, a new string of pearls was added to her neck and took a twisted souvenir of stuffing her husbands' severed heads in a hatbox.[2]
In 1869 she married the naive farming heir Ambrose Harper in Secret County, California. In 1872 she married the East-coast banker Frank Banks in Bulfor's Isle, California. In 1874, Constance married and murdered a noble, celebrated military officer and diplomat from Peking, China in the form of the Marquis de Doome. This marriage also presumably gave Constance the title of being the Marchioness de Doome. Following the Marquis in 1875 Constance married gourmand, gambler and railroad-baron Reginald Caine who she murdered just like her other grooms.
In 1877, Constance would marry one George Hightower of the wealthy Hightower family in New Orleans, Louisiana. After murdering him, Constance would inherit his estate in the form of an antebellum mansion which is now known as the Haunted Mansion. Constance would use the mansion's attic to store away the mementos of her murders and the other evidence of her crimes. Constance also had some affiliation with another Victorian man who she might have also killed who would become, "The Hatbox Ghost" and who resided in the attic with Constance, keeping the hatboxes which she used to stuff her victims' heads. This man would come to be murdered (presumably by Constance) and be decapitated with his own head being put in a hatbox. He would become one of the 999 ghosts haunting the manor.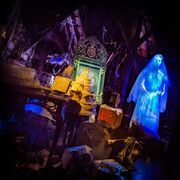 After Constance killed George lived out the rest of her days peacefully, satisfied with her accumulated wealth. She was never tried for her crimes and got away with them, dying of old age likely in the 1910s-1930s (said to be 1927 in the aforementioned live-event). When she passed away, Constance's ghost haunted the mansion's attic, searching for new victims from within the manor's walls.
Alternate versions
[
]
In the Walt Disney World version of the attraction, the Haunted Mansion is located in upstate New York rather than New Orleans.
Unused script
[
]
In a 1968 script for the Haunted Mansion, the woman in the stretching portrait was called Abigail Patecleaver, "Who was preceded by her husband". The idea was revisited when the bride's story was expanded with the 2006 refurbishments, and she evolved into Constance.[3]
Ghost Gallery
[
]
The Ghost Gallery was non-cannon but influential backstory for Walt Disney World's Haunted Mansion which was created in the 1990s by cast-members. As the Constance Hatchaway character had yet to be created, the attic bride and elderly black-widow were two separate character within its continuity and neither had the exact history nor identity of Constance Hatchaway.
Black Widow
[
]
The black widow was a woman named Mary Gilbert who was born into a moderately wealthy family that left her their wealth when they died. She would force her younger step-brother Asa Gilbert to runaway from home under the threat of death so she could retain the family fortune in peace. Mary would come to be seduced by George Gracey, Sr., a member of the wealthy Gracey family who she moved into manor of in upstate New York.
The marriage of George and Mary would prove to be unhappy as George spent most of his time away from home traveling or on business-trips. This left Mary behind to care for their son George Gracey, Jr. which she disdained as she didn't care for children or raising them. On one of the few occasions that George Sr. was in Gracey Manor he confessed to Mary that he had had an affair with a woman named Mrs. Peterson who he conceived a child named Daniel with.
At her last straw and seeing an opportunity arise, Mary used a hatchet to murder George with an axe blow to the skull. While she admitted herself as guilty to this crime, she was acquitted due to the circumstances of murder and it being ruled a crime of passion. Following this, Mary collected her inheritance and fled the country never to be seen again while abandoning her son in the process.
Bride
[
]
The bride was a woman named Emily Cavenaugh who was a New York heiress whose family died when she was only a young teenager. She would be seduced by the adult George Gracey, Jr. of Gracey Manor who wished to absorb her family's fortune for himself as he went broke with expenses in the occult. Being but a girl whose psyche had yet to fully develop, Emily was easily manipulated into the marriage bed by the mature Master Gracey.
Following their marriage, Emily engaged in a game of hide-and-seek with Master Gracey in-which she would hide in the attic of Gracey Manor within a wooden chest. Said chest would be locked by Master Gracey's mistress Madame Leota who had murdered his prior bride Lillian O'Malley Gracey in jealousy as-well. Emily's spirit would go on to haunt the attic of Gracey Manor due to it being the place of her murder.
Appearances and allusions
[
]
Constance is first seen in a portrait in the stretching room. As an old woman, she is holding a rose and sititng on the tombstone of her husband, George.
Her spirit manifests in the attic, where she is seen as a ghost. She recites her wedding vows, making allusions to her crimes and her gold digging nature, while her axe materializes into her hands. Portraits of her and her husbands are seen in the room - the heads of her husbands disappear and reappear, alluding to their ill-fates.
Main Street Penny Arcade
[
]
The likeness of the Stretching Room portrait depicting Connie and George is seen on one of Esmeralda's tarot-cards in the Penny Arcade of Disneyland.
Ghost Post
[
]
While Constance never appeared in the audio logs, she was referenced by other characters. The Hitchhiking Ghosts remarked that all of her husbands still love her, regardless of what she did to them. She was the implied author of Aunt Agony, an advice column in the Grim Gazette newsletter. She referenced the other spirits in the attic and her husbands.[4]
Live-Appearances
[
]
Constance has made sporadic meet and greet appearances at the Disney Parks, mainly at private and special ticketed events. In recent years, she has appeared at Disneyland during the annual Halloween parties and was also summoned by Dr. Facilier in the 2015 show Mystic Spirits of the Blue Bayou.
Printed materials
[
]
Constance is an antagonist in the Haunted Mansion miniseries. She resided in the attic, attacking anyone who wandered inside. The Captain sent the mortal Danny into the attic to search for the mansion's treasure. In this continuity, she killed her husbands not out of greed, but because she loved weddings so much. She had a sixth prospective husband, but that wedding never happened.
Constance is referenced throughout the book series and first encountered in Volume 2: Midnight at Madame Leota's. The librarian, Amicus Arcane, warned mortals not to go into the attic, or else she'll get them. William wandered into the attic by accident and was attacked by her, looking for her next victim.
Connections
[
]
Constance's fifth husband George Hightower is a likely relative of Society of Explorers and Adventurers member Harrison Hightower III. If the connection is accurate, then she would be his in-law. Harrison would have been 42, when she and George were married. Constance herself would have been 48 years old at the time of Harrison III's demise.
Trivia
[
]
Constance is one of the few characters in the Haunted Mansion to have hard dates attached to her story. However, the dates of her birth and death are still ambiguous but theories on this do exist.

It is fairly definitively known that she died at some point between the 1910s and 1930s as her Stretching Room portrait shows her alive as an old woman while the photographs of her in the attic show her in her prime-years during the 1860s to late-1870s.
According to an appearance at a 2017 DVC event at the Magic Kingdom, she married Ambrose when she was eighteen, meaning she was born in 1851. She said she passed away of a heart-attack in her rose garden in 1927, at age 76. However, the veracity of this is unclear due to dubious canonicity.[5]
Constance's portrayer Julia Lee was born October 31st (Halloween), in 1975. She portrayed Constance in 2006 when she was 31 years old which when applied to Constance's photographs would make her be born somewhere between 1838 and 1846.

Constance's connection with the previous attic brides are unclear, but much implies that they are one-in-the-same. Concept art and merchandise often portray her with a beating heart, much like the original attic bride.
Constance's voice-actress Kat Cressida also voiced the ghost Sally Shine in the defunct Disney's California Adventure variant of the Twilight Zone Tower of Terror.
Constance's year of death being 1927 might be a reference to the 1927 horror film London After Midnight which was an influence behind the Haunted Mansion.[6]
References
[
]