David Livingstone (1813-1873) or, "Doctor Livingstone" as he is often erroneously referred to as is a historic explorer often affiliated with S.E.A. related attractions.
History
[
]
Development History
[
]
Livingstone is a historic explorer famously affiliated with the line, "Dr. Livingston I presume" which was allegedly said to David by Sir Morton Stanley upon their meeting.
Appearances and allusions
[
]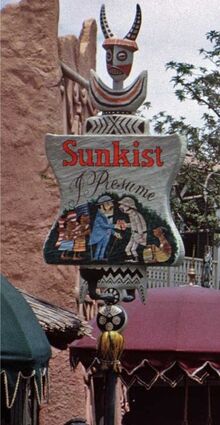 Livingston is mentioned by Albert Awol in the queue for the Magic Kingdom's Jungle Cruise. He is mentioned as being in the vicinity of a Jungle Navigation Company base and being requested to meet with Sir Morton Stanley at Schweitzer Falls. While attempting to decipher Stanley's poor calligraphy, Albert Awol says, "-Dr. Livingston I presume?".
Dr. Livingstone made frequent appearances at Adventureland in Disneyland Paris, often in the restaurant back when it was called 'The Explorers Club'. He was portrayed by Theo Fraser Steele.
Sunkist I Presume
[
]
There used to be a dining area in Disneyland's Adventureland called, "Sunkist I presume" which had a name referencing the famous greeting made to Dr. Livingston. Along with this, the sign for the service had an illustration of Livingstone and Sir Stanley enjoying orange-juice together. In the 1990s, this restaurant was replaced with Bengal Barbecue.
Connections
[
]
A Jungle Navigation Company employee named Jermy Livingstone is mentioned within this text.
This Adventureland restaurant serves a Dole Whip called, "Dole Whip, I Presume".
Trivia
[
]
Both Stanley and Livingston appear to have survived longer in the Disney park mythos than their historic counterparts given their being referenced c. 1938 in the Jungle Cruise.