EPCOT (the Experimental Prototype Community of Tomorrow) otherwise known as Progress City is an unbuilt colony planned to have been created in Lake Buena Vista, Florida and which is also the fictional setting for the Walt Disney World theme-park of the same name.
Description
[
]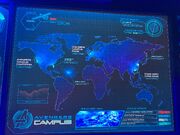 EPCOT is a futuristic municipality located in Central Florida, at the exact coordinates as its real-world theme-park counterpart. Also known as Progress City, the colony is located just outside the sleepy town of Disney Springs.
EPCOT was created with many groups and companies being invited to innovate their respective industries. The colony was also specifically designed to be subject of futuristic innovations.
EPCOT is divided into four known basic districts or, "Worlds" (though in park terminology they are equatable to, "Lands"). These four districts are World Celebration, World Discovery, World Nature and World Showcase. EPCOT was also connected to an expansive monorail which spanned throughout different parks of the Floridian region.
Features
[
]
Progress City
[
]
Cosmopolitan Hotel:
Green Belt:
EPCOT
[
]
World Celebration
[
]
World Celebration is largely built around culture and human connections. It was the district connected to the main gates of EPCOT.
World Discovery
[
]
International Space Training Center:
Test Track Design Studio:
Xandarian Outpost:
World Nature
[
]
Journey of Water:
The Land:
Living Seas Pavilion:
Canada Pavilion:
China Pavilion:
France Pavilion:
Germany Pavilion:
International Gateway:
Italy Pavilion:
Mexico Pavilion:
Morocco Pavilion:
Norway Pavilion:
United Kingdom Pavilion:
United States of America Pavilion:
World Showcase Lagoon:
History
[
]
Real world
[
]
Epcot was originally conceived by Walt Disney under the name of Progress City as part of the Florida Project which was Walt Disney World. EPCOT was not intended to be a theme-park but rather an experimental municipality which Walt and the Walt Disney Company would preside over with the intention of developing progress. This would have involved pre-planned layouts of the city's neighbourhoods and several corporations being invited with the express purpose of working together to advance technology.
Walt died before this idea came to fruition and the EPCOT project was shelved. According to Roy Disney who was against the concept, the last thing which Walt did with him was explain the EPCOT project from his hospital-bed. By 1982, EPCOT was revived as a new theme-park to be featured in Walt Disney Work working under the gimmick of being Walt's vision.
Disney Parks
[
]
EPCOT or the Experimental Prototype Community of Tomorrow was a futurist colony developed by Walt Disney in Florida during the 1980s. EPCOT was constructed outside of the town of Disney Springs where Walt's parents had visited following their marriage. EPCOT was seemingly connected to the similar California futurist colony of Tomorrowland and seemingly had several of the same parties involved in its creation and operations.
EPCOT was opened by the early 1980s and was also seemingly open to the public with the colony presenting itself similarly to a world's fair. Several different companies and groups were also invited to EPCOT to develop their respective industries. Innoventions in EPCOT were hosted by Tom Morrow 2.0, a robot seemingly made in the vain of Tomorrowland's mayor and Moonliner mission-director Tom Morrow. Another notable denizen was a scientist known only as the Dreamfinder, a jovial professor who worked out of the Imagination! Pavilion. Dreamfinder developed psionic technology alongside his creation Figment and used the pavilion as his Dream Port to the Realms of Imagination.
By the 1990s, Dreamfinder became mysteriously absentee from EPCOT and the pavilion was left in the care of the Imagination Institute, an organization which he was likely affiliated with. The pavilion was run by institute chairman Dr. Nigel Channing who brought many other intitute members to EPCOT, many of whom came from Medfield College. The Imagination Institute was largely chaotic and frequently terrorized by Figment who opposed Channing's constrictive views of imagination.
In the 2010s, Tony Stark of Stark Industries included EPCOT as part of their Avengers Campus initiative. This lead to the opening of the Xandarian Outpost or Other-World Showcase, a pavilion hosted by the advanced aliens of the planet Xandar.
Appearances and allusions
[
]
DinoLand, U.S.A.
[
]
In Chester & Hester's Dinosaur Treasures in the town of DinoLand, U.S.A. is a sign which reads, " When in Florida be sure to visit EPCOT ".[1]
In the backstory for Disney Springs, Walt Disney chose to build his, "Florida Project" around the town of Disney Springs, Florida due to his parents having spent time their around the time of their marriage. As EPCOT is the only one of the four Walt Disney World theme-parks to be an in-world Floridian location (excluding the Sunshine Tree Terrace of Adventureland and Diggs County in Disney's Animal Kingdom), it is likely that this is inferring EPCOT is near the town of Disney Springs. Additionally, in the marketplace of Disney Springs is a sign of flights connected to the town with one being, "Progress City", an early pseudonym for EPCOT.[2]
EPCOT
[
]
Tomorrowland Transit Authority PeopleMover
[
]
Walt Disney's Carousel of Progress
[
]
Connections
[
]
The characters of the Dreamfinder and Figment were originally conceived for the proposed Disneyland expansion of Discovery Bay where Dreamfinder AKA Professor Marvel would have been a scientist experimenting in Jason Chandler's science colony.
Disney films
[
]
In the, "KitCot" at the UK Pavilion is an outpost for the Royal Adventurer's Society which is shown to be in possession of a book titled, "The Society of Explorers and Adventurers". The defunct attraction World of Motion also featured the historic figures of Leonardo Da Vinci and Christopher Columbus both made appearances as animatronic characters in World of Motion. In addition to being represented in Fortress Explorations, both are identified as honorary members of the Society of Explorers and Adventurers. It should also be noted that the Da Vinci tableau heavily featured his flying-machines with said machines in the S.E.A. mythos having been inspired by Atlantean flying-machines in the Shepherd's Journal and going on to be featured in Cellino Falco's Museum of Fantastic Flight where they would inspire Camellia Falco's own flying machines.
Mickey Mouse Universe
[
]
World of Motion is referenced within the Jungle Navigation Co. Ltd. Skipper Canteen. Here, a map by Mary Oceaneerfeatures the, "Kimballum Horriblus" as a legendary creature of the Mediterranean. This creature being the sea-serpent that terrorized Colombus in World of Motion and its name being a tribute to imagineer Ward Kimball who designed much of the attraction. Dreamfinder's voice can also be heard in the mess-hall of this attraction, asking where he can park his Dream-Machine.
Trader Sam's Grog Grotto in Disney's Polynesian Village Resort has a life-preserver mounted on the wall with the words, "Vesta v gruppen" on it. This was taken from Maelstrom where it was hung along the wall of a waterside building in the village.[3]
Star Tours
[
]
Carousel of Progress
[
]
The original post-show for this attraction when it appeared in Disneyland had a model of Progress City. Mother and Father narrated this segment to explain Walt's vision for EPCOT.
ExtraTERRORestrial Alien Encounter

[

]
Tom Morrow 2.0's robot can be seen advertised on a screen in the show Stitch's SuperSonic Celebration, being sold by X-S Tech.[4][5]
PeopleMover
[
]
In the Tomorrowland Transit Authority PeopleMover is a model of Walt's vision for Progress City. The announcer for the attraction details the PeopleMover's history as it is passed.[6]
Rocket to the Moon
[
]
The Innoventions character of Tom Morrow 2.0 is the successor to Tom Morrow, a character from Rocket to the Moon who has since been reimagined as the fictional mayor of Tomorrowland.
In the defunct attraction Horizons there was a robotic butler. In the Space Mountain at the Magic Kingdom, a more sleek robot butler appears within the cosmic tourism destination Constellation: The City of Stars. One piece of luggage in the terminal of the star-port also lists, "Mesa Verde" which is a location from Horizons. Jules Verne also appeared in the attraction Horizons where he rode inside of one of the bullet spaceships from De la Terre à la Lune.
The defunct attraction Mission: SPACE utilized the, "X-2 Deep Space Shuttle" to take guests from EPCOT to the planet Mars. The X-2 is implied to be related to the X-1 spaceship in Walt Disney World's Space Mountain.
References
[
]