The Himalayas are a real-life mountain-range.
Description
[
]
Features
[
]
Real
[
]
Chomolhari: A 24,040 ft/7,319 m tall peak. "Destination of a yearly 10 mile procession from the town of Phari Dzong".
Siguniang: A 20,505 ft. / 6,250 m tall peak. "The 'Four Sisters' mountain".
Mount Everest/Chomolungma: Everest is the highest peak on planet Earth at 29,035 ft. / 8,848 m.
Annapurna II: "The Goddess of Harvests" which is 26040 ft. / 7,937 m tall.
K2: The second highest mountain on Earth at 28,250 ft. / 8611 m.
Disney Parks
[
]
Connections
[
]
Indiana Jones' mentor Abner Ravenwood travelled to the mountains near Nepal in the 1930s with his daughter Marion. He would die in an avalanche in the Himalayas while on an excavation expedition.
Expedition Everest is set within the Himalayas as guests attempt to take a railway used by Himalayan Escapes Tours and Expeditions to Mt. Everest. They are subsequently attacked by the mountain's yeti. Everest itself can be seen behind the Forbidden Mountain from the ride's exterior.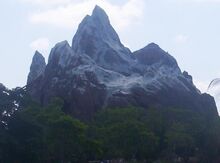 In 1930, the League of Adventurers would introduce their Fixed Ropes Transit System (abbreviated as F.R.T.S.) through an installation in the Himalayas, running afoul of the Yeti of the Forbidden Mountain during this expedition.
The Wilderness Explorers game of Disney's Animal Kingdom takes guests to Anandapur. In the Asia sections of the Wilderness Explorers Guidebook contains several allusions to, depictions of, and missions regarding the Himalayas, the Forbidden Mountain, and the Yeti. This includes using a telescope to note the height of the Forbidden Mountain and differentiate it from Mt. Everest, taking one of Himalayan Escapes' train-tours of the mountains, and studying the folklore and anthropology of the yeti outside of the Yeti Museum. The Wilderness Explorers are also connected to the history of Anandapur, namely in the Anandapur Royal Forest.
References
[
]