Ice Gator is a character from Disney's Blizzard Beach water-park.
History
[
]
Ice Gator was an alligator in Florida who lived through a strange natural phenomenon that resulted in Florida being hit by a blizzard. Some individuals attempted to profit off of this by creating Florida's first ski-resort at the base of Mt. Gushmore only for the Floridian sun to begin melting the park. The group changed plans when Ice Gator showed up and used the melting of Mt. Gushmore as a water-slide.
The ski-resort was transformed into a winter-themed water-park known as Blizzard Beach and used Ice Gator as their mascot. Ice Gator himself would continue to use the park along with his niece who enjoyed both skiing and water activities in the resort.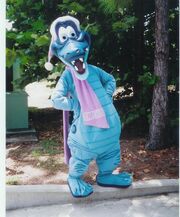 Appearances and allusions
[
]
Blizzard Beach
[
]
Ice Gator is the mascot for Blizzard Beach water-park where he is a regularly encountered meet 'n' greet character. A snow sculpture of him can be found in Tike's Peak along with his niece standing on a slope. [1] Ice Gator's silhouette is also in the Beach Haus from when he crashed through the building's ceiling on a skiing endeavour.[2] A sculpture of him is outside the ski patrol training area, holding a certificate of completion.[3]
Connections
[
]
Ice Gator's likeness would inspire Typhoon Lagoon's mascot Lagoona Gator. The two alligators are of unknown relation to one another however, partly due to Typhoon Lagoon's ambiguous setting.
References
[
]