Kali or Kalika is a Hindu goddess.
History
[
]
Mythology
[
]
Appearances and allusions
[
]
In this bar run by SEA member Jock Lindsey, Kali is the namesake for the Kali Ma Garita margarita.[1] The bar also contains assorted allusions to the Thuggee Cult which worshiped Kali in the Indiana Jones franchise.
Kali serves as the namesake for this attraction as she is the namesake for the Kali River and Manisha Gurung's company Kali Rapids Expeditions.[2]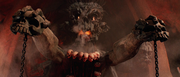 In other media
[
]
Kali is the patron goddess of the Thuggee Cult and Mola Ram which serve as antagonists in this film.
Connections
[
]
The Kryta of Indiana Jones made by Zalim Singh while in the Black Sleep of Kali Ma appears in Trader Sam's possession.[3]
References
[
]