Kungaloosh is a word in the S.E.A. mythos referring to an in-group greeting and several objects.
History
[
]
Kungaloosh was used as the official greeting for the Adventurers Club, a globe-trotting sub-faction of the Society of Explorers and Adventurers, as well as by the Jungle Explorers' Society headed by Nedley Lostmore. The term was multi-purpose, similar to the Hawaiian word, "Aloha". The Adventurers Club's official credo used it in the song-lyrics and also was part of the official club-salute. Kungaloosh was also the name of a specialty drink served within the club composing of fruit-juice and rum which was served in drinking establishments affiliated with the club. There is some indication that the word and/or drink might be African in origin though in real-life the word Kungaloosh is seemingly gibberish.
Appearances and allusions
[
]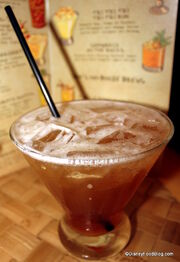 The term Kungaloosh originates from the attraction/dining-service The Adventurers Club where it was served as a drink and used as the club's official greeting.
In the Skipper Canteen is a dessert dish titled Kungaloosh!, referenced in the menu as being an African pastry. It is a chocolate cake with caramelized bananas, cashew-caramel ice-cream and chocolate-dust.[1] The Canteen (and several locations at Disney's Animal Kingdom) also serve the Kungaloosh Spiced Excursion Ale, brewed specifically for them.[2]
The Kungaloosh! drink is an off-menu option in Trader Sam's Enchanted Tiki Bar and Trader Sam's Grog Grotto. The term is also used in a letter sent to Sam by Colonel Critchlow Sunchbench, in the bar's description written by Skip Documentary of the Jungle Navigation Company, and by a JNC skipper named Andrew. [3][4]
Alberta Falls uses Kungaloosh to close out the introduction to her annotated map of Adventureland's rivers seen in the queue of the 2021 update.
Trivia
[
]
The original recipe for the Kungaloosh drink included vodka.
References
[
]