Jurassic World: Dominion Dominates Fandom Wikis - The Loop
Play Sound
Mystic Manor is a dark ride located at Mystic Point at Hong Kong Disneyland.
Home to Lord Henry Mystic and his monkey Albert, Mystic Manor serves as a Chinese counterpart to the Haunted Mansion, replacing the ghosts with an enchanted art collection.
Architectural Design
[
]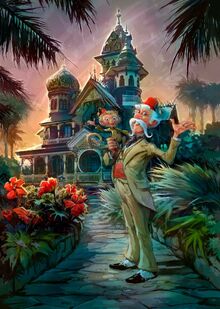 Mystic Manor is described as "tropical Victorian eclectic" and borrows elements from a number of different cultural styles to reflect the globe-trotting adventures of Henry Mystic, ranging from gothic arches, elements of Cambodian temples, and Russian onion domes. The Manor also draws inspiration from the Carson Mansion in Eureka, California.
Summary
[
]
Queue
[
]
The exterior queue is a loading zone for artifacts being delivered to Mystic Manor for further cataloging, primarily statues. Guests enter the Manor through the lower level, where the public museum portions of the house are kept.
Inside, a gallery of artwork of the various adventures of Henry Mystic and Albert, painted by SEA's artist-in-residence, Charlton J. Taboret. Maps of different areas of Mystic Point with artifact highlights are also displayed here, along with a model of the Manor and a small artifacts case.
Presentation Room
[
]
In the attraction's pre-show, Lord Henry Mystic makes a slideshow presentation that welcomes us to the manor, introduces us to him, Albert and the collections, with Albert himself popping up in animatronic form. He also shows us a new acquisition: The Balinese Music Box, said to have the power to bring inanimate objects to life, which Albert has become obsessed with. Albert scampers off into the projection room before the lights come back on.
Acquisitions and Cataloguing Room
[
]
Boarding a Mystic Magneto-Electric Carriage in a work room full of artifacts waiting to be catalogued, guests are taken into the Acquisitions and Cataloguing Room where Henry greets us before stepping out trying to find Albert. Albert appears and opens the music box, setting things into motion as the magical Music Dust begins bringing everything in the room to life, including a greek bust, a suit of armor, a dragon statue, and an African mask.
Music Room
[
]
The Music Room contains a number of musical instruments from around the world that have been brought to life by the Music Dust, with a Oaxacan Pipe Organ Albert has chosen to perch on and a harpsichord leading the living symphony.
Mediterranean Hall
[
]
The Manor's Greek and Roman collection includes a mosaic of a Pompeii family toasting during the Vesuvius Eruption, a wobbling amphora vase featuring Hercules battling the Nemean Lion and occasionally leaping out, staring busts, and a mosaic of a young woman transforming into Medusa.
Solarium
[
]
Home to a number of exotic plants, including huge carnivorous ones. Albert pets one of the smaller closed buds, while a larger fly trap roars at guests.
Slavic-Nordic Chamber
[
]
A painted cabinet of a pleasant spring scene is transformed into a harsh winter wasteland by the appearance of Stribog, the Slavic god of weather. The vehicles turn to a mirror, which is frozen and shattered by the god's icy blasts.
Arms and Armor
[
]
Mystic's collection of armor and weaponry has come to life. While Albert hides in a cannon avoiding a Samurai's sword, a menacing knight holds a helmet in his hands and a lance covered in other helmets, while a trio of medieval armor helmets begins to sing near a loaded crossbow.
Egyptian Antiquities
[
]
While hieroglyphic paintings dance, they are interrupted by a swarm of insects emerging from the wrappings of a mummy, horrifying the golden face of its sarcophagus. The insects swarm the carriages and bring the room into darkness.
Tribal Arts
[
]
Totem poles begin chanting and singing to the music while a Lava God Idol has awoken, spewing lava from its mouth. As a drummer idol begins pounding out a war tune, a group of idols pins Albert onto the wall across them with blow darts, arrows and spears.
The Chinese Salon
[
]
In the attraction's climax, a jade statue of the Monkey King has created a powerful storm with his staff that has begun to shatter pottery and cause the animals in hanging tapestries to change places. Albert is nearly hit by a blast of energy that shatters the wall and he grabs onto the Music Box to end the madness.
Return to Acquisitions and Cataloguing
[
]
Albert closes the music box in a darkened room, causing the music dust to disappear and order to be restored, with the room returning to its original state. Henry leans into the room, having found his little buddy and warns him not to touch the music box before he and Albert bid us goodbye.
Connections
[
]
Harrison Hightower III holding Shiriki Utundu at an 1899 S.E.A. meeting. 1899 is the year that Harrison Hightower III was spirited away by Shiriki Utundu.
In addition to being inspired by the Haunted Mansion in the general sense, many of the manor's gags and visuals were lifted from the mansion, as well.
A changing portrait of a woman during into a gorgon - here a fresco instead of a painting.
Living suits of armor that sing the ride's theme song, an amalgamation of the living armor and the singing busts.
The staring busts in the library can be seen in the Mediterranean Hall.
A book in the Skipper Canteen's library is called Mysteries of Mystic Manor by Yuen.
Other
[
]
Video
[
]