Rosa Soto Dominguez is a character from the Jungle Cruise.
History
[
]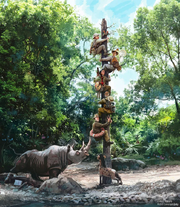 Rosa Soto Dominguez was an esteemed painter during the 1930s and a close personal-friend of Alberta Falls, the president of the Jungle Navigation Company. In 1938, Rosa was returning to Mexico City from an art-show in Paris when Alberta invited her to join in on a V.I.P. riverboat tour lead by the company aboard the ship the Kwango Kate. Joining the two were botanist Dr. Leonard Moss, Alberta's cousin Siobhan "Puffy" Murphy, entomologist Dr. Kon Chunosuke of the Society of Explorers and Adventurers, and their skipper Felix Pechman XIII.
Due to the perpetual misfortune of the Kate's skipper Felix Pechman XIII, the boat was wrecked somewhere in North Africa. As a result, the stranded guests became stranded in the African veldt where they were chased up a tree by a rhino.
Appearances and allusions
[
]
In the drink menu for the Tiki Takeover Event was a ticket for Rosa using, "S.E.A. Global Charters Atlantic Lines" in the 1940s. This ticket was for transport from Cairo, Egypt to Progresso, Mexico. This ticket was paired with a drink called, "La Artista" (Spanish: The Artist (feminine)), likely making Rosa the namesake for said drink.
Jungle Cruise
[
]
Connections
[
]
Skipper Canteen
[
]
The abstract portrait of Alberta Falls originating from Skipper Canteen is displayed in the 2021 version of the Disneyland Jungle Cruise queue adjacent to Rosa's supplies, implying she was the one to originally paint it.
References
[
]